The following is a list of terms used at CSR that may be confusing to new readers. The list is compiled in a dictionary-like format for easier reading, and the goal of this glossary is to educate new readers on lingo that may be found listed in comments and/or articles.
CSR Glossary of Terms
89: Steve Smith, who referred to himself as 89 when he announced the Rules & Regulations of the game (see Rules & Regulations for details on the term).
8-9 Killa, the: Steve Smith. He wears #89, and he kills opposing defenses with his speed and ability to catch balls in traffic (sometimes catching balls that no other receiver would even come close to bringing in). He has also has a fiery temper and has been known to punch teammates from time to time. (aka 89, Smitty, The Incendiary One)
Agent 89: Steve Smith (aka 89, 8-9 Killa, Smitty, The Incendiary One)
Alphabet Soup: Seyi Ajirotutu. Nickname started by Jake Humphrey, because it's easier to call him Alphabet Soup than it is to attempt pronouncing his name.
BAMF: Acronym for Bad A** Mother F***er, frequently used in reference to Jerry Richardson and/or Ron Rivera.
Bank, the: Bank of America Stadium, home of the Carolina Panthers. (aka BoA, BofA)
Beast: Jon Beason.
Beast Mode: Term used in game threads when Beason makes a great play on the field.
Beef Stew: Jonathan Stewart (aka Stewie, J-Stew, The Daily Show)
Big Cat, the: Jerry Richardson, owner of the Panthers and one of the most beloved owners in the entire NFL.
Blue Emu, the: Jimmy Clausen, because he looks like an Emu. Nickname coined by CSR member Sniff.
Buck: Brandon LaFell. Nickname coined by CSR member James Dator, because LaFell was drafted to replace Mushin "Moose" Muhammad, and a buck is a young moose.
Cactus, the: Used when a player is so terrible that the team could replace him with a cactus and get the same result. Frequently used in reference to Mackenzy Bernadeau (aka "The Turnstile").
+Cam: The equivalent of +1, or "I agree with you". Started by BW Smith shortly after Cam Newton chose #1 as his jersey number.
Cardiac Cats, the: The Carolina Panthers, who have an unusual ability of making almost every fan have a near heart-attack every Sunday by playing in amazingly close games or making heroic 4th quarter come-backs. This term originated in 2003, when the Panthers won 7 games in the last 2 minutes or in overtime.
Clausenite - A person who believes that Jimmy Clausen is a franchise QB, regardless of how poorly he played in 2010. Clausenites will jump to Clausen's defense any time he is criticized or blamed for his poor play in 2010, and usually when this happens it ends up being a 200+ comment argument.
CSR: Cat Scratch Reader, a fan-site of the Carolina Panthers, part of the SB Nation blog network.


Daily Show, the: Jonathan Stewart. Nickname taken from a Rotoworld article about Stewart's monster game against the Giants on 12/27/09 when he amassed 209 rushing yards. (aka Stewie, Beef Stew, J-Stew)
Dancing Bear, the - DT Terrell McClain. Nickname originated while he was at USF, and it has transferred to CSR. The GIF below is also used as an acceptable (and preferable) form of the term:
D-Lo: DeAngelo Williams (aka D-Will)
D-Will: DeAngelo Williams (aka D-Lo)
Double Decker - James Dator's brilliant idea for a giant jumping castle-like replica of Brooklyn Decker's chest outside of Bank of America Stadium that fans can jump off the top of the stadium like a burning building and land in the center of for entertainment during games. This is probably the greatest idea that has ever been presented on CSR.
Double Trouble: The running back tandem of D-Will and J-Stew, the greatest running back tandem in the NFL.
Edwardian - A person who believes that Armanti Edwards was the best QB on our roster in 2010. Edwardians will jump to Armanti's defense any time he is criticized or blamed for not making an impact in 2010, or when he is made out through revisionist history to be a terrible draft pick, and usually when this happens it ends up being a 200+ comment argument.
False Start: Jordan Gross, because he does it a lot. (Also the name of one of Jake Delhomme's horses, which he admitted in an interview to naming the horse after Gross because of his tendency of jumping off the line too soon.)
fart out a link - Coined by Vagus in response to someone requesting proof of something he saw on tv regarding the Panthers, to which he brilliantly replied "...I can't fart out a link for live TV." It can also be used by posting this image: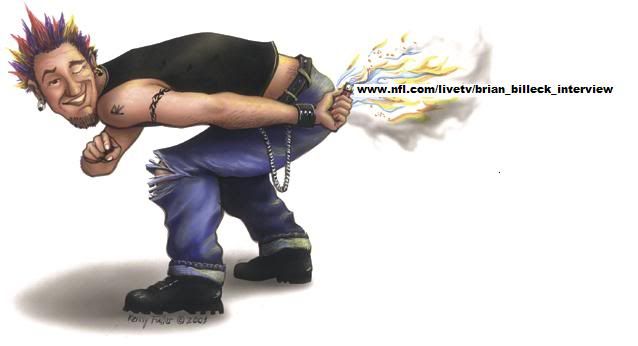 Fig Newton - Cam Newton. This one shouldn't need an explanation. Occasionally, it's shortened to "fig".
Gambit: Chris Gamble
Game Thread: A comment thread used by CSR members to discuss games as they happen live.
Ghost of Wesley Walls, the: Nickname given to any TE who shows an ability to catch the ball frequently.
Ginger Snap: Sean McDermott. Nickname coined by CSR user Tomthehomer, probably because McDermott's favorite cookie is the ginger snap, though it might have something to do with his hair color and skin complexion.
Great Purge, the: The 2010 offseason, where the Panthers front office released several key veterans (including fan favorite Brad Hoover) to cut cap space and make the team younger. (aka The Great Purge of 2010)
Human Turnstile, the - OL Mackenzy Bernadeau, who lets defensive linemen get to the QB with extreme regularity. Term can be applied to any OL who whiffs on a block.
Hurney: Marty Hurney, General Manager of the Carolina Panthers.
Incendiary One, the: Steve Smith, based on an ESPN commercial with Kenny Mayne, where Mayne refers to Smith's speed as incendiary. This nickname can also be used to describe Smitty's fiery personality and competitiveness, which can be seen frequently on the sidelines (and sometimes on the field) during games. (aka Smitty, 8-9 Killa)
J-Stew: Jonathan Stewart (aka The Daily Show)
Legatron: Legadu Naanee. Nickname coined by CSR member JDeLong42.
McGinger: Sean McDermott. Nickname coined by CSR member Jake Humphrey, who discovered the name on another SBN site and introduced it to CSR.
(minus Bowers) - Coined by Ivan459, (minus Bowers) is a term that was used during the draft to signify that anyone the Panthers drafted with the #1 overall pick would have been acceptable, except for Clemson DE Da'Quan Bowers
Mooreman - A person who believes that Matt Moore was the best QB on our roster in 2010. Mooremans will jump to Matt's defense any time he is criticized or blamed for not making an impact in 2010, and usually when this happens it ends up being a 200+ comment argument.


Money: Armanti Edwards. Nickname originates from his days at Appalachian State, where "his throws were like money", as confirmed by several members of CSR who are familiar with Edwards' career at ASU. (aka Sling Blade, The Predator)
Most Interesting Man in the World, the: Ron Rivera. Nickname originates from the image below created by CSR member southtunnel:
Newtonian - A person who believed that Cam Newton was the only player worthy of being drafted #1 overall by the Panthers. Typically, Newtonians and Clausenites do not get along, and most interaction between the two groups ends up being moderated.
olé - Term used when an offensive lineman pulls a Bernadeau and becomes a human turnstile.
Opie: Sean McDermott. Nickname coined by CSR user silver82blade, who noticed that McDermott resembles Ron Howard, who played Opie Taylor on The Andy Griffith Show. (aka Ginger Snap, McGinger)
Pickles: Jimmy Clausen. Nickname given to him by teammates and based on Claussen brand pickles. (aka Alien Wizard, The Blue Emu)
Predator, the: Armanti Edwards. Nickname given to him while he was at Appalachian State. (aka Money, Sling Blade)
railgating - Created by James Dator, railgating is the brilliant concept of tailgating on a train that is on it's way to the stadium before a game. As expected, lots of food and drinking are involved when railgating.
Release the Kraken! - A chant used when a) we want to see Greg Hardy on the field, or b) when Greg Hardy makes a good play. The phrase is also used to explain the explosiveness of Greg Hardy.
Rules & Regulations: The rules of the game which every player must follow, set forth by Steve Smith in a post-game interview with Andrea Kramer after the Panthers defeated the Vikings on 12/20/09. Also, a fan page of "rules" at CSR. For those who need a visual aid, please consult the picture below that was created by CSR member Tater596.
Senn Master, the: Jordan Senn. Nickname coined by Panthers beat writer Darin Gantt via Twitter on the first day of Training Camp 2010.
Sexondary: Term coined by CSR member Mike Train in the Panthers vs. Bears Game Thread on 10/2/11 to describe when the secondary opens up like a "loose woman" and allows a big play.
Sling Blade: Armanti Edwards. Nickname coined by CSR member Joshua Wilson Foskett, because Edwards injured his foot in a lawn mower accident in 2009. (aka Money, The Predator)
Smitty: Steve Smith, the greatest wide receiver in Panthers history. Smitty is the most common nickname used for Smith. (aka 89, The Incendiary One, 8-9 Killa)
Sticks: Brandon LaFell. Nickname coined by CSR member Sniff, because LaFell wears #11 and has a lanky physique. (aka Buck)
tater'd - A word used to describe a thread where Tater596 has blessed the readers of CSR with gratuitous pictures of beautiful women.
TD: Thomas Davis, unless it clearly refers to a touchdown.
tree fiddy - Brought to CSR by ERL in the 12/6/10 edition of the Monday Morning Optimist, the term tree fiddy originates from the classic show South Park, and it's frequently used at CSR when money is part of a discussion. It was used primarily as a way to poke fun at Cam Newton before the draft because of his dad's involvement in the "pay for play" scandal while Cam was at Auburn. Tree fiddy is commonly associated with the lochness monster, and is brilliantly used in the image below:
Tree Fiddy is also illustrated in currency form in the image below created by CSR's very own Tater586:
Weinke: The dog in the "do not want" poster frequently used in comments, and the official mascot of CSR.

Wood: Eric Norwood. Nickname coined by CSR members Jaxon and silver82blade. (aka Woodshed)
Woodshed: Eric Norwood. Nickname coined by CSR member bwsmith25, because Norwood takes opposing quarterbacks to the woodshed and gives them the beating they deserve. (aka Wood)
* * * *
Practice Squad Nicknames (Players/coaches not on the team)
Blahblah Grabass - Term used to make fun of Blaine Gabbert by Newtonians when the classic "Newton vs. Gabbert" debates were a huge part of CSR prior to the 2011 Draft.
Da'Quan Bowels - When used as a noun, it refers to Bowers taking a pic of himself on the toilet (like this). When used as a verb, it means the act of laying a turd of a performance at DE. It can also be used in a sentence, such as: "I'm going to go take a Da'Quan."
Dick: Richard Marshall. Name coined by James Dator in the 12/5/10 Seahawks Open Thread.
DJ: Dwayne Jarrett, former Panthers receiver, who was released in October 2010 after his 2nd DUI arrest since being drafted in 2007.
Forrest Gump: Jeff Davidson, the absolute dumbest Offensive Coordinator in the NFL. He is gifted with two of the best running backs in the league (D-Will and J-Stew), and had one of the weakest quarterbacks (2009-Delhomme) - yet he inexplicably decides that it's always a good idea to call deep passing plays 75% of the time late in games when the team is only down by 3-7 points with more than 5 minutes remaining. (aka Gump)
Foxism: A blatantly obvious (and sometimes confusing) statement that John Fox will make to the media during press conferences or interviews regarding team and/or player issues. (Example: When discussing player injuries, Fox will say "Right now, he'll be day-to-day, and we'll make those decisions as we go" -- no matter how serious the injury is. The player could have had his arm ripped off and been beaten over the head with it on the field, and Fox will give the same "day-to-day" speech regarding the injury status and recovery time.)
Foxy: John Fox
Furney: A portmanteau of John Fox and Marty Hurney, frequently used by CSR members as a lazy convenient way to complain about and/or praise both men at once.
gabbery - Coined by James Dator, this term is used to describe the movement of long, flowing, typically blond hair. The term is also used to describe the movement of long, flowing conversations about Blaine Gabbert.
Gump: see Forrest Gump
He Hate Me: Rod Smart. Nickname originates from Smart's days of playing in the XFL, when he wore "He Hate Me" on the back of his jersey during games. Also one of Jake Delhomme's horses. After the XFL crumbled, he became a kick returner for the Panthers.
Hitman: Chris Harris, former Panthers safety, who was traded to Chicago in 2010.
Hoov: Brad Hoover, former Panthers fullback (and probably one of the biggest fan-favorites in team history).
Hoover the Mover: Brad Hoover. The nickname comes from a local Chrysler/Dodge/Jeep dealership chain in the lowcountry of South Carolina. Since Hoover is a fullback who moves defenders out of the way for the running backs, the name fits. Plus, it rhymes and sounds cool. (This torch will be passed to any future Panthers player who has the last name Hoover, but will have II, III, IV, etc. added to it. It's similar to the monarch naming system of England, et al, only it's cooler.)
Juggernaut, the: Tank Tyler. Nickname coined by CSR member Revshawn during the 11/19/09 Dolphins game thread, after Tyler made a helmet-less tackle for loss.
Kemo: Ma'ake Kemoeatu, former Panthers defensive tackle (who was released during The Great Purge of 2010). He has this nickname for two reasons: (1) it's easier to spell, and (2) it sounds cool.
Lord Helmet: Geoff Schwartz. Nickname derived from the movie Spaceballs, where Yogurt teaches us the power of "The Schwartz".
Moose: Muhsin Muhammad, the 2nd best wide receiver in Panthers history. Moose is known for his dominant blocking skills, and fans will chant "Moooooooosssssseeee" any time he makes a big play on the field (and sometimes just for the hell of it).
Neckbeard - Stanford quarterback Andrew Luck, who spurned the Carolina Panthers and their fans by returning to school to play with Legos (or get a degree in Architectural Design, if you want to be technical about it). Also used to define an unruly growth of hair on one's neck extending from one's beard.
Pep: Julius Peppers, former Panthers defensive end. The man who John Fox built the defense around in his first season as head coach by taking him with the #2 overall pick in the 2002 NFL Draft, yet couldn't find the decency to thank the fans or the organization when he left via free agency in 2010.
Rae Rae: Rae Carruth, former Carolina Panther who was arrested on murder conspiracy charges in connection with the death of his girlfriend Cherica Adams. A dark spot in Panther history, but a spot no less.
Rosario Dawson: Dante Rosario, the Panthers' tight end who has the strange inability to block like a man from time to time. The nickname comes from actress Rosario Dawson, who has a similar name and is female. Also, after Rosario made the game winning touchdown reception in a 26-24 victory against the Chargers in Week 1 of the 2008 season, Fox mistakenly referred to Rosario as "Rosario Dawson" in the post-game statistics leader board. (aka The Ghost of Wesley Walls)
Smart: Kenneth Moore. Nickname coined by CSR member James Dator, because Moore drives a Smart Car.
Spin Cycle: Everette Brown, former DE whose only move to get to the QB was a spin move that never worked.
Statue, the: Jake Delhomme, the Panthers' starting quarterback from 2003-2009, who has the inability to move around in the pocket and avoid a sack. Instead, he stands straight up with his arm held back to throw, and ends up either (a) taking a sack, or (b) fumbling the ball.