I still can't believe it.
How did we get here?
The New Orleans Saints should have beaten the Atlanta Falcons at home. The Cleveland Browns and their hotshot rookie quarterback Johnny Manziel should have beaten a mistake-laden Panthers team.
Yet, the Carolina Panthers are still standing.
Wow.
This team had an interception. Fumbles. A missed field goal. Terrible special teams play. Terrible safety play. Terrible red zone performances. And a starting quarterback that survived a life-threatening car accident less than two weeks ago. The comedy of errors version of 12 Days of Christmas, and yet the Carolina Panthers still hung on to beat the Cleveland Browns, 17-13.
Quarterback Cam Newton came back with avengeance, throwing for 201 yards, running for 63, and scoring 2 touchdowns. Running back Jonathan Stewart continued his hot streak as the lead back, rushing for 122 yards, catching a passing touchdown, and closing the game shut on a 30 yard run.
The defense was just as good. They keep the Browns at bay nearly the whole game, giving up only one touchdown on an 81-yard touchdown pass to Jordan Cameron. Kudos can go all around, starting with: Charles Johnson, causing disruption all day and getting a sack; Bene Benwikere, shutting down his man all day and getting a key tackle; and Josh Norman, covering Browns wide receiver Josh Gordan to moderate success and getting an interception.
As for the other Heisman trophy winning quarterback, Johnny Manziel's performance was a dud. He finished 3 for 8 with 32 yards passing. He exited the game early after a bruising hit by Luke Kuechly and Colin Jones.
The turning point
There was no bigger turning point than the last meaningful play of the game. With less than 2 minutes to go, the Panthers up 17-13, and with 3rd and 5 on the Cleveland 40, a 3rd down conversion would effectively end the game. And not only did they end the game, the Panthers ended it with authority.
Newton handed the ball off to Jonathan Stewart, who appeared to run left into a wall of defenders. But the elusive Stewart was patient, made two key cuts, and rumbled not only for the first down, but for 30 yards to the Cleveland 10. Victory formation, and that was all she wrote.
What we learned
A healthy Cam Newton is a missed Cam Newton. Why the Derek Anderson debate blew up radio shows, Twitter, and forums is beyond me. Newton is the future, the dynamic play-caller that is a difference maker. The question was, "Is he healthy?" And yes, he was. With 63 yards rushing, and saving the Panthers bacon with a rushing touchdown, he was the Cam we all remembered two weeks ago in New Orleans. He did have one bad play where he was flushed out of the pocket and threw an interception while being hit as he threw. But he had amazing throws to Kelvin Benjamin, and multiple runs for first down. Glad you are back, Cam. We missed you.
What a difference an offensive line and a pass rush makes. The Panthers were dominated this season because they could not block a lick, and could not apply any pressure on the quarterback. That has changed dramatically over the last 3 weeks. Newton had eons of time in the pocket, leading to easy throws. Stewart had some lanes to run. And whether it was Manziel or Brian Hoyer, they made the quarterback uncomfortable all day. Without these elements, they are picking early in the NFL draft. And with them, the Panthers are threatening for a playoff spot.
They are still not perfect. Neither are the Green Bay Packers, the Seattle Seahawks, nor the New England Patriots. But what we have learned from these foes is that even on their worst day, they can still win. Exhibit A: the Panthers game against the Seahawks this year. The Seahawks did everything to lose, yet they still came away with the victory. The Panthers have that same swagger. Cam threw a horrific interception. He also fumbled the ball. Norman intercepted a ball only to fumble it himself too. Gano missed a 49 yard field goal. They gave up an 81 yard touchdown! Yet, they won. That's what winning teams do. (And the upshot? Maybe they have still done bad enough that maybe they might still fire the coaching staff. Half kidding.)
The bottom line
The Panthers are playoff bound. No, they have not clinched a spot, but by virtue of their win and the Atlanta Falcons win over the New Orleans Saints, the Panthers have set up their own virtual playoffs. If they win week, the play on. They lose, the Panthers go home fishing. Consider it the NFC South Championship game.
As a Panthers fan, this is what you want, right? A lottery ticket to get into the big dance and possibly make some noise. If the Panthers can somehow beat the Falcons and pull off the crazy 4 game winning streak to get into the playoffs, this will become the hottest team in postseason. And as the New York Giants (8-8) and the Seattle Seahawks (7-9) has shown in the past, that is all you need to make some noise.
Rally behind this team. This is what we live for as football fans, and even more so as Carolina Panthers fans. Keep. Pounding.
What was good
Jonathan Stewart. May be MVP of this team during the win streak.
Josh Norman. Relatively shut down Josh Gordon. Athletic, impressive interception.
Defensive line. Short, Ealy, and Johnson all got a sack.

Star Lotulelei

outran Manziel on a scramble.

Dwan Edwards

got consistent pressure. Looked good today.
Ed Dickson. Where have you been? Two huge catches and gains today. Really underutilized.
De'Andre Presley. Great special teams tackle on punt coverage.
Cam Newton. Already mentioned above.
Kelvin Benjamin. Two sensational catches on two great throws by Cam Newton.

Greg Olsen

, the blocker. His play in the run game, set up Newton's touchdown, and a number of Stewart's big runs, especially the last, game-clinching one.
Ron Rivera's challenges. Has had three successful challenges in a row.
That offensive line. So. Freaking. Good. From the opening drive, one can tell that this is a solid unit. Not the best in the league, but darn good enough to win some games. I see you,

Byron Bell

,

Andrew Norwell

,

Ryan Kalil

,

Trai Turner

, and

Mike Remmers

!
Kony Ealy. Constant pressure, and got a sack on Pro Bowl left tackle Joe Thomas. Bravo.
The Atlanta Falcons. You finally did something good for once. You beat the Saints. See you in the NFC South Championship game.
What sucked
The use of Greg Olsen on offense. He dominated in the New Orleans and Tampa Bay games. To ignore him for a huge part of the game is a big oversight. He may have been double covered or gameplanned out, but you have to get him involved. A tight end screen, and short pass, something!
Josh Norman. Hit defenseless receiver, and celebrated the penalty. Followed up interception that could have ended game with a fumble. Anyone (myself included) could see from a mile away that he was going to fumble the ball the way he was holding it one handed away from his body. Complete love-hate relationship with him.
Roman Harper. Completely blew coverage on 81 yard touchdown catch by Jordan Cameron. Some "safety."
Graham Gano. Okay, so maybe 49, 50 yard field goals aren't made automatically. But Gano missed another today. Rough year after such a successful 2013 year.
Special teams. Penalized for a block in the back on a long

Brenton Bersin

return. Penalized for an illegal wedge. Gano missed a field goal. How does special teams coordinator

Richard Rodgers

keep his job again?
Tre Boston. Horrible angle and ball skills that lead to big 20+ yard pass early.
Johnny Manziel. So much hype, and you exit the game early. Come on, man.
SBNation GIFs of the game
Ugly interception by Cam.
Fight! Fight! Fight! But not the Panthers, it is children in a scrum for a Cam touchdown ball.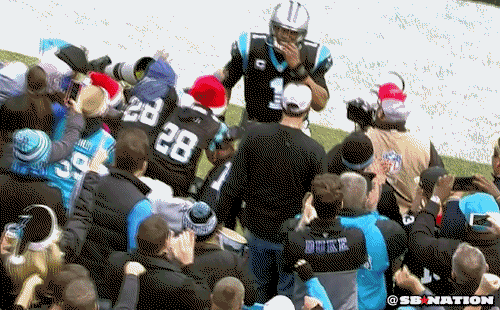 The injuries
None of note.
Up next
The NFC South Championship game takes place in the Georgia Dome, as the Atlanta Falcons host the Carolina Panthers. This is truly a playoff game, as the winner plays on, and the loser goes home. With the NFC South title and playoff berth on the line in a rivalry game, it does not get much better than this.
To buy tickets, visit the NFL Ticket Exchange.