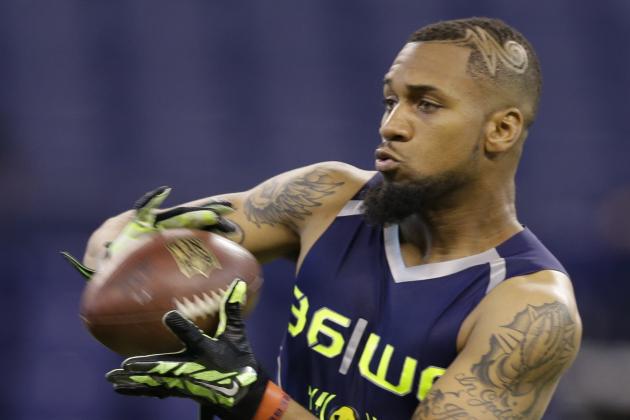 Image Via: Michael Conroy
Ole Miss had their pro-day yesterday down in Oxford Mississippi. I have personally been trying to keep up with one of my favorite WR's in the 2014 NFL Draft in Donte Moncrief, so I found it curious that not all the NFL teams sent scouts to his pro-day showing after the amazing combine Moncrief just had in dispelling some of the myths about his speed when he ran a 4.40 forty. So when I was digging for information on how the pro-day went I saw that Carolina had representation there. Here are some notes I found on Moncrief far as Monday goes.
By Derek Harper | The Sports Xchange/CBSSports.com
Wide receiverDonte Moncrief stood on the 4.40-second 40-yard dash he was credited with at the Scouting Combine, but took part in positional drills at Ole Miss' pro day Monday. The physically gifted big-play receiver also measured in at 6-feet-2 3/8 and 219 pounds, two pounds lighter than in Indianapolis.

Moncrief posted excellent agility test numbers at the combine, including a 39.5-inch vertical jump and 132.0-inch broad jump. He is currently the No. 67 overall prospect according to NFLDraftScout.com ratings, and No. 11 among wide receivers, projected as a second- to third-round pick.

Questions remain about the strength of his route-running, which he attempted to address by going through drills Monday. While NFL.com reported representatives from only a half-dozen teams were on hand for the workout with the Rebels lacking any other sure-fire draft picks among the 18 total prospects to work out, the school said at least 25 representatives from 22 different NFL teams were at Ole Miss' Manning Center.

Moncrief's workout is important as the junior jockeys for position with the likes of Vanderbilt's Jordan Matthews, Colorado's Paul Richardson, LSU's Jarvis Landry, Clemson's Martavis Bryant and South Carolina's Bruce Ellington - who are all rated between No. 55 and 99 by NFLDraftScout.com.
If you notice that only 22 teams sent representatives to Oxford for Ole Miss's pro-day. So I was curious were the Panthers represented? As it turns out they were. If you watch the photo stream of yesterdays events you will see that Carolina had one of their guys in attendance."I know this is all speculation and not to take it with a grain of salt", and that the Panthers are just doing their due diligence. With all the ideas and opinions on who the Panthers are looking at, I thought it would be at least good to show some tangible evidence of a player that they have scouted.
It will be on slides #'s 11 and 14 of 65, Ole Miss Pro Day Images