To take Dave Gettleman's vision on what he wants on his football roster to the bank. I believe we could see more beef drafted this year in the early rounds to upgrade the offensive line as in the same mold he repaired the defensive line with the teams first 2 picks last season. We do however have our 3rd round selection this year so that could play a likely difference on how his draft strategy plays out on where to select a player on how the organizations draft board unfolds. Gettleman wants his hogmollies and who are we not to oblige.
So shall we begin,
1st Round: David Yankey OG Stanford.
I know everyone is going to clamor we need a right tackle. This is true, not going to even argue the point. When you look at exactly where the Panthers are drafting it is at the 28th selection of the first round. If you try to reach for an OT based on need at this spot, it just reeks of desperation. Others will beat the WR drum at this spot also "saying what are you thinking." Gettleman and the coaching staff are fully aware they could use an upgrade in that department also, but trust me that he and the scouting department also know this is the deepest position in the 2014 NFL Draft. So with that out of the way lets look at BPA, area of need, and upgrading an element you value as a GM on your roster (SIZE MATTERS). Yankey is the best guard in the draft without question. He can play right out of the gate, and I hear people say we have Silatolu coming back to play LG. Well in all things relative Silatolu has not played a whole season for us in his two years on the squad and is starting to show he is not reliable. What loyalty does Gettleman have to him? Let me answer that for you NONE! He is on a rookie 2nd rounder contract and can be cut with no real ramifications. Plus Travelle Wharton is only on a 1 year deal and we don't know if he will be resigned. Now with Yankey you are getting an upgrade in the running game, passing game, and it is said his football intelligence is incredible. He could come in and start from day one and pick up the blocking schemes with ease. Yankey makes a ton of sense at this spot for the overall improvement of a football roster and getting Getts a hogmollie.
2nd Round: Paul Richardson WR Colorado.
Yes, Gettleman heard the masses and draft's a weapon for Cam. I am going to slot Richardson at this spot, cause I have a feeling we sign Hakeem Nicks in the off season as our main FA news. I believe Hicks will come in and play on a 1 year prove your worth kinda of deal with incentives that he could be resigned here with a better deal in the future. Hicks will be the chain mover and Richardson the explosive option. I know if you look up Richardson's measurements 6'1 around 175 lbs. you will say to yourself he is lite in the ass. He also has said that he realizes this and is willing to continue to put in the work to add some good muscle mass to make his frame stronger. On different message boards I have seen him compared to Desean Jackson without the attitude. Remember Gettleman saw his fair share of a player with Jackson's ability during his tenure with the Giants as they had to face Philly twice a year in their own division. Richardson could blow the top off opposing defenses and be a true game changer.
3rd Round: Jack Mewhort OT Ohio State.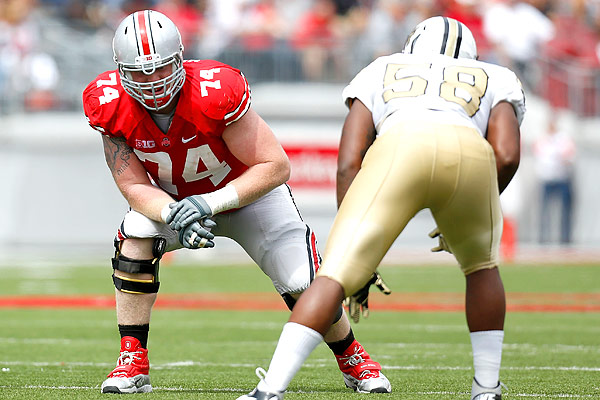 Yes we revisit the OL at this point in the draft selecting a blue collar hogmollie that sure would fit in nicely with Gettelman's MO. Mewhort is better served playing right tackle in the pros and boy he sure would be an upgrade over Byron Bell. Also we are able land an OT without having to reach for one earlier in the draft and still come away with a much improved offensive line from a talent standpoint. Mewhort has been a constant for the Buckeyes O-Line. He was a first team all big ten this year and a key cog in the rushing attack of Carlos Hyde, (Also going to be drafted as probably the first running back drafted in 2014). Mewhort played left tackle for the Buckeyes so he has experience at the position, but I believe Jordan Gross will return next season so getting Mewhort to fix the right side of the line now is feasible. Then look after next season to worry about the left tackle position either in FA or the 2015 draft. Mewhort would provide excellent value for snagging him with a 3rd round selection and could be a mainstay with Yankey on the offensive line for the next decade.
Now the rest of the draft,
4th Round: Dion Bailey FS Southern Cal.
5th Round: Antone Exum CB Virginia Tech.
6th Round: BPA.
7th Round: BPA.
With the 6th and 7th round picks you are looking for depth players, special teams, and diamonds in the rough to bring in and develop. There are so many prospects I could place in these two picks that for this edition, I will leave it as BPA until I do more research and narrow them down. At that point in the draft it could be any number of positions and players you are looking at so it's like a crap shoot for now.