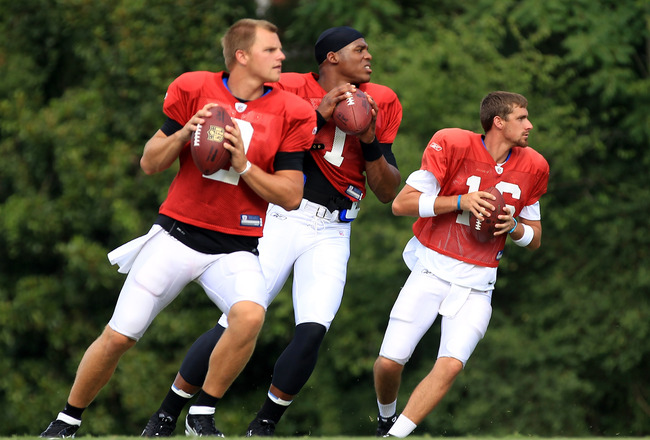 With all the mock drafts swirling around here on CSR and all the debating on which players the Panthers are going to take in the 2013 NFL Draft. I thought I would bring up a topic that not many readers have probably given a second thought about with all the craziness going on this time of year.
Let me first state that we are not getting rid of Cam!
In reality there is a position on this roster that Gettleman will have to address in the near future. That is what happens to our quarterback depth after the upcoming 2013 season. Yes we resigned Derek Anderson to a one year deal for 2013 so he goes into camp as the #2 QB on the depth chart backing up Cam. He has done a good job at that role since coming here two years ago. Anderson is a luxury a lot of NFL teams don't have on their respected rosters. With all that being said D.A. only signed a one year deal. That makes him eligible for free agency again after this year and there is no guarantees he will be back with this team for 2014.
Next we have Jimmy Clausen aka "The Jimmeh" as the #3 QB that has not been given a jersey on game day since Carter had liver pills! Now we all know what Jimmy brings to the table so I won't get into that debate for the sake of this article. There is one thing that does need to be brought to light is that Clausen is in the final year of his rookie deal in 2013. With the likely hood of him not being resigned by Carolina since this is Cam's team. Clausen will most likely hit the open market and try to land with a team that his skill set could put him in a position to make a career for himself.
In itself these are very real scenarios that could and most likely will happen. The question now is how will Gettleman deal with these set of circumstances. This brings us back to the 2013 NFL Draft. Would it serve in this teams best interest to bring in a late round QB to groom into the system or pick up a priority UDFA this year? I would not be surprised if this same line of discussion has been had at some point during the process with the Panther's brass. I believe it would be in this teams best interest to maybe take a look at developmental quarterback with the possibility of only having one QB committed to the 2014 roster.