With the release of Chris Gamble due to the salary cap situation the Panthers were in, the organization could go in a couple of directions to fill his spot on the roster. Here is a couple of realistic scenarios I could see playing out going forward.
Aaron Ross free agent formerly of the New York Giants/ Jacksonville Jaguars.
This could be a realistic move considering he has history with Gettleman and could be had at a much cheaper cost than what Gamble was going to cost us against the cap. Ross is 30 years old and still has some value to a team like the Panthers who will need to bring in someone to compete at cornerback opposite of Dockery, Norman, and Thomas. Ross here would not be a splashy move and will be nothing more than a veteran stop gap until we have a solid pair of cornerbacks going forward. If Gettleman thinks his former Giant player would come in here and sign a modest contract this could be a decent pick up going forward.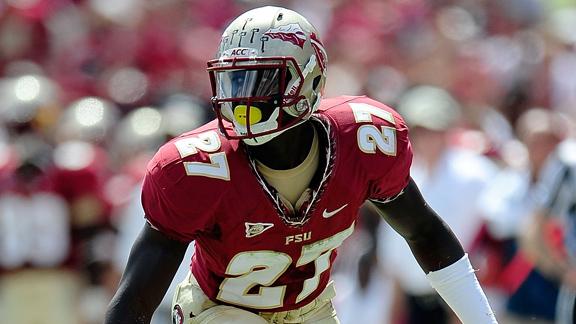 Xavier Rhodes CB Florida State.
With the 14th pick in this years upcoming draft the Panther's could use it on Xavier Rhodes cornerback out of Florida State. Rhodes is a big physical corner (6'1 at 210 lbs.) that could be an answer going forward in the division matching up on wide receivers of the likes of Julio Jones or Roddy White of the Atlanta Falcons, Vincent Jackson of Tampa Bay, or a Marcus Colston from the New Orleans Saints. Rhodes would be perfect value at this pick using the BPA model with player of need. The Panther's need to draft an elite cornerback to add to the defense being that the NFL has turned into the old AFL and become a pass happy league especially with how the rule changes have favored the offenses. If not Rhodes in the first maybe another corner at that same spot or in the second round. I think it would be wise to address this position early in this draft.
Cowboys+v+Carolina+Panthers+NuX5SsW3j1Sl.jpg" />
Cornerbacks are a premium in today's NFL. The Panther's will have to fill this spot with someone they see fit. I just can't see them going into next season putting all their eggs in one basket with fielding only Norman, Thomas, Dockery, or Munnerlyn as their cornerbacks of the future. Yes they played solid at the end of last season but don't be fooled into the fact that any are considered number one cornerbacks in this league.