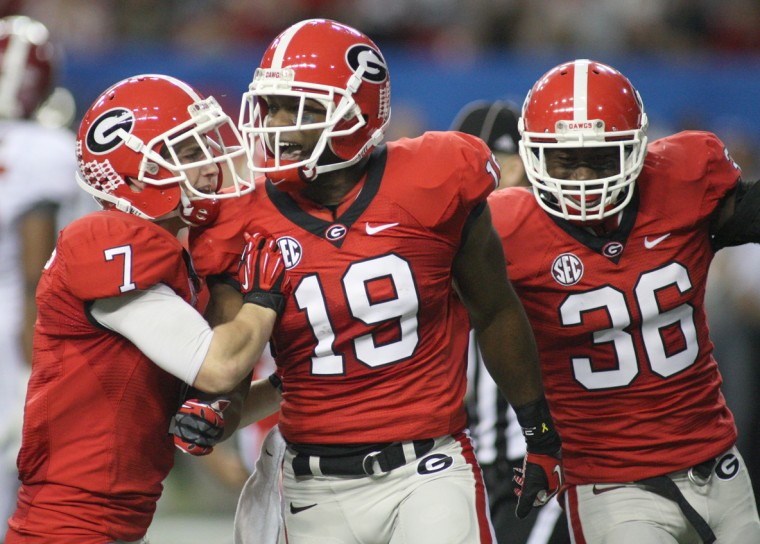 With all the possibilities swirling around of players that many on here at CSR think the Panthers will take with their limited number of draft picks. Five picks to be exact. I thought I would shed some light on two players that are very much on the Panther's draft board in this upcoming draft.
Sanders Commings CB Georgia
The organization has spent a lot of pre draft time and resources in scouting this young man. It is evident in what I found while looking for possible meetings with players and teams far as pre draft scouting is concerned. This is what WalterFootball.com has on him. Sanders Commings%, DB, Georgia (PRI) (SR). That is the most time as of now spent with any one prospect in this draft by this team. The % sign means multiple meetings with a prospect by that team. Plus the Panthers also met again with him at Georgia's pro day. Commings has great size at 6'2" at 216 lbs. He is a big corner that could come in and add more talent to the secondary on draft day. It is obvious the Panthers have taken special interest in this player based on the time already spent on scouting and vetting him.
David Bass DE Missouri Western
Here is player I could see coming in as another pass rusher along that defensive line. Bass is the kind of small school prospect that could pay dividends to the team that takes him and the Panthers have some love for this kid cause they used one of their private visits on him, David Bass, DL Missouri Western (PRI) per WalterFootball.com. Bass is listed at 6' 4" at 262 lbs. The Panther's will be looking at another DE in this upcoming draft especially with the Greg Hardy contract situation coming up after this season. This could be an option for Gettleman to snag a guy like Bass with say our 5th round pick so he has a rotation of pass rushers on the roster.
To look at how the Panthers are going to draft through rose colored glasses and visions of grandeur is not realistic. Yes we will get an elite talent with our first rounder. After that you want to fill your roster with sound football players and depth to develop for the future. The two players I have listed above would fill out the back end of our draft nicely. Gettleman has stated he was a grinder and watched endless hours of tape. If the scouting department and him have already spent private visits on these two prospects you better believe they had some good tape that Gettleman has reviewed and might just take with two of our five picks.