It seems the closer we get to the draft the more horrendous the CSR mock drafts get. So I'm here to save the day and get everyone out of the mock draft funk. If you seen my "I cant sleep so I guess i'll do a mock draft" mock draft. Then you know how groundbreaking and genius it was. However, the Panthers have made some moves in free agency and I believe ruined my brilliance. But alas I'm back with a vengeance.
Round 1 Lane Johnson OT Oklahoma
He already has a player profile here at CSR and it has been discussed that he could start week 1 at RT and eventually move to LT and replace the player he has been compared to, Jordan Gross.
Round 2 John Jenkins DT/NT Georgia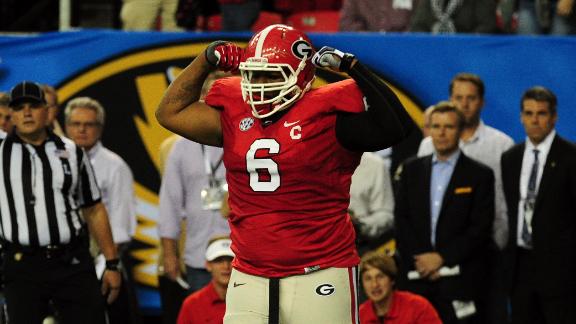 I have noticed that most people here at CSR have developed a love affair for Jesse Williams and for good reason, however I believe that Jenkins is the better pro prospect and exactly what our defense needs. It also helps that the last time the Panthers drafted a DT this high he also was a Jenkins.
Round 4 Alvin Bailey OG Arkansas
So how about we fix our RT spot in the 1st and then go ahead and fix our RG spot in the 4th. The only issue is some people have a 3 round grade on Bailey so there is a chance he could be gone, but if he is available then our OL goes from a weakness to a strength in four rounds.
Round 5 Josh Boyce WR TCU
In the mold of a Wes Welker/ slot receiver type. A diamond in the rough type of player. Ran a 4.38 40 and was very productive at TCU. 998 yards and 9 touchdowns last year. Only weakness is he is 5-11. However is very strong for his size having 22 reps in the bench press. Fights off tackles and works for every yard, sounds like a certain someone in a Panther uniform, but we compared Joe Adams to him and that didn't turn out to well.
Round 6 Earl Wolfe S NC State
Seems to be a fan favorite for Panther fans and provides great value in the 6th round. I have seen some mocks on CSR where people have us picking him in the 5th but from what I've seen on draft sites he has a 6th-FA grade. Provides much needed depth and competition for are secondary.