Yes, my CSR faithful I wanted to get in this whole mock draft thing and show the players I would take in this years draft. This is a "Mock Draft" right? So no other GM should look at this and think this is how the Panthers are going to draft this upcoming spring, "wink wink". So without any more hesitation let me put it out there on who I will be taking with the Panther's draft picks.
Round 1: Tavon Austin wide receiver WVU.
Let me explain this pick. First off I could not afford an upgrade at wide receiver during free agency of the likes of Mike Wallace who got his pay day in Miami. Plus the current coach I have working for me spilled the beans on what I was looking for in a player for the offense. Tavon Austin could bring the same thing to the table for me for a much lesser cost than Mike Wallace. That is a receiver with the ability to blow the top off of opposing defenses. I want touchdown scorers as I have said before and Austin can score from anywhere on the field when the ball is in his hands. Plus Austin has speed to burn and can be used not just on offense but also on special teams. I want touchdowns and Austin can give them to me.
Round 2: Jordan Poyer CB Oregon State.
This one should be a no brainer. I had to cut Gamble and all I could afford was a one year aging veteran in Drayton Florence. You really think he is the answer for the future. I think not that is why I only gave him a one year contract. The Panthers are going to have to replace the loss of Gamble with a talented cornerback going forward. Poyer will be on the board when I pick and you can believe I'm taking a corner.
Round 4: Reid Fragel OT Ohio State.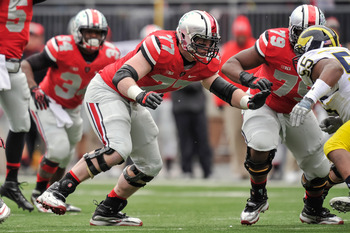 Jordan Gross can't be here forever and I don't want the headache of continuing to restructure his insane cap number. Bringing in an athletic tackle that could have the ability to man the left side going forward is a need for the Panthers and my spending budget. If Fragel can not become a left tackle at least he will be a solid right tackle until I can get my hands on the future franchise left tackle. I think Fragel can transition to the left side cause he is very athletic and is a sleeper prospect just the kind of hidden gem I covet.
Round 5: Cornelius Washington DE Georgia.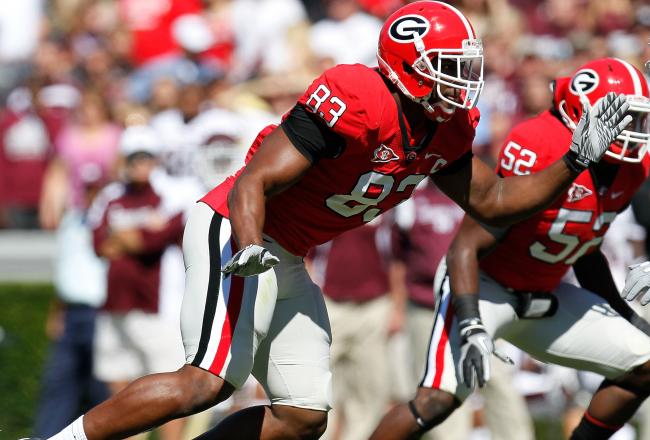 This is adding a pass rusher while at the same time preparing for the future. After Paul Kruger set a market for pass rushers, I have little to work with in trying to retain Greg Hardy after next season when he hits the open market. Charles Johnson is commanding all the money at that spot for us. I would like to have an offer for Hardy but it might be out of reach. In the meantime I'll take a solid pass rushing DE in Cornelius Washington who in turn caught a lot of eyes at the Senior Bowl especially mine. Washington was just buried behind all of the other defensive prospects on that Georgia defense but has solid game in his own right. Washington has huge upside and could be a real steal if he is still here when our pick comes up.
Round 6: Jelani Jenkins OLB Florida.
Yes, OLB depth is a certain option since it is known that we have had private workouts with Zaviar Gooden and Jelani Jenkins so far. We had to release James Anderson and Jason Phillips went to Philly. Plus with Jon Beason who knows if he ever gets healthy or how long do you think I am going to put up with that contract number. Bringing in a player like Jenkins will help fix some of those issues now and in the future. If nothing else he will help strengthen the linebacking corps and provide a solid talent in that dept.
This is a mock draft I hope the readers of CSR enjoys. By the way the draft might just turn out like this you never know. I do know this draft means everything for the future of this team no matter who they decide on they have to hit on these picks until our salary cap situation can be improved.
NOTE: Dave Gettleman had nothing to do with this mock draft.