So let's begin with...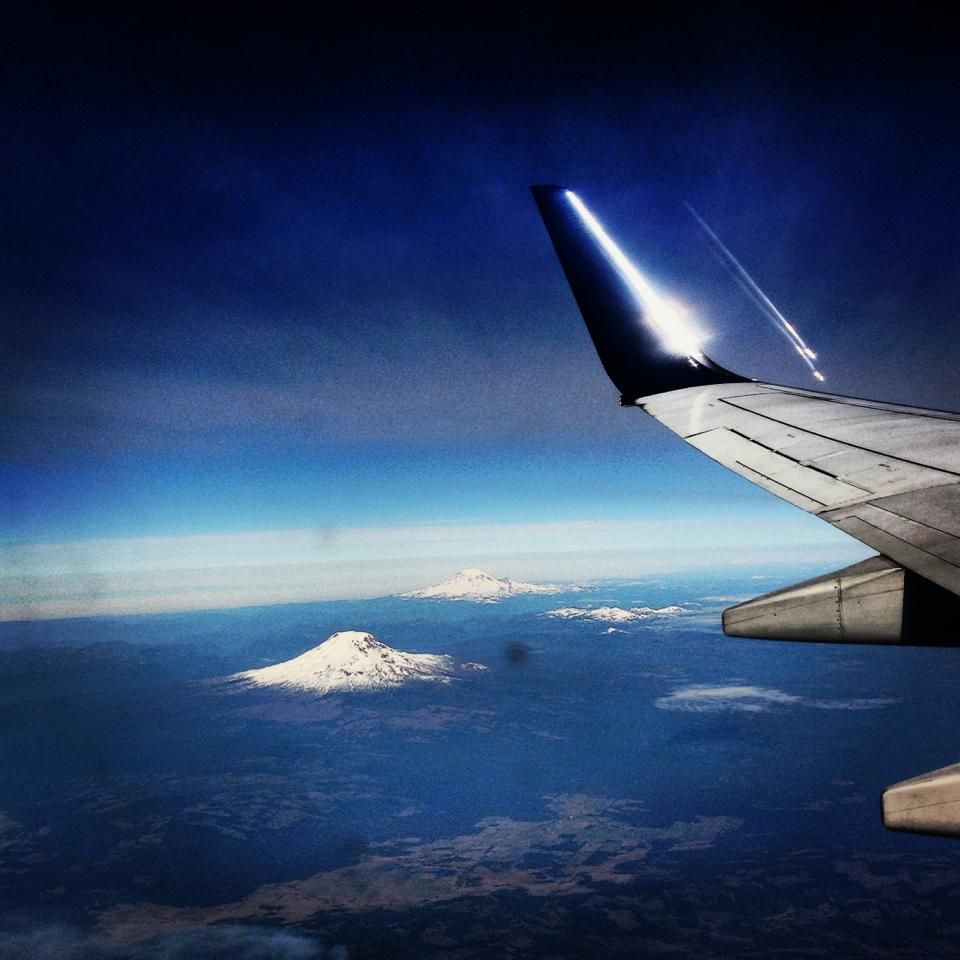 A long flight across the country (believe this is Mt.Hood which is in Oregon near Washington). 3 flights, From Seattle to Portland, from Portland to Detroit (god bless I made it out of there alive) and then to Charlotte. Saw a Bucs fan (Yes a Bucs fan) in a Revis jersey in the Portland airport. Couldn't help but laugh and almost feel sorry...
After hours of flying, I finally reached Charlotte. On our way to the hotel, the first thing I saw were the beautiful skyscrapers here in Charlotte. Duke Energy was lit green on this night, and it was awesome...
So while the first day (Wednesday) involved a bunch of flying and sitting, I finally got to go all over Charlotte on Thursday and experience Carolina. Note this was also my first time being on the East side of the states. Nebraska has been the furthest I've been East, and that's not saying much. To start off my trip, we went to the Bobcats game because we had seen that tickets were literally only 4 dollars, and I have never been to an NBA game before...
What I didn't know however, was that 15,000 middle school kids were attending the game for a "school is cool field trip"...luckily we were given press box type seats, and were no where near the little. However, they did keep me entertained, this kid especially..
So after an impressive pre-season blowout by the Cats, I decided it was time I get my first taste of one of the things I was looking forward to most...Bojangles.
While this is just another restraunt to most of you, I have for the longest time seen in videos/pictures Jerry Richardson with a sweet tea cup everytime he is in his damn golf cart at training camp or gameday (note, that at the game, I saw he had one). Other than that, people talked about this place all the time online and seeing the many commercials back in the day with Smitty and Delhomme, I couldn't resist. Sweet Tea and Bo-Berrys are amazing, as is the Chicken and Biscuits. You can't find that here in the northwest.
At the bobcats game, I had a few of my Youtube followers come and meet me, which was pretty cool. Everyone in Carolina is absolutely classy and very respectful, something I don't see much here. In fact, a kid who followed me on YouTube just randomly decided to give me an autographed Carolina Panthers hat with autos from Hardy, TD, and more because he can get autographs easily being that he lives in Charlotte, unlike me who lives in Washington state. Also, another follower of mine gave me a 97 "prowl towel" which is something I couldn't get here. I resisted with them both saying I can't accept it, but they were both polite and said they WANTED me to have them. Just un-real with how classy and the hospitality that I received on this trip.
So then Friday came along, and this was one of the best days I've ever had in my life...witnessing BOA in person. I had to start off by taking a picture with this beautiful Icon for the Panthers, one too that I have used numerous times in my videos...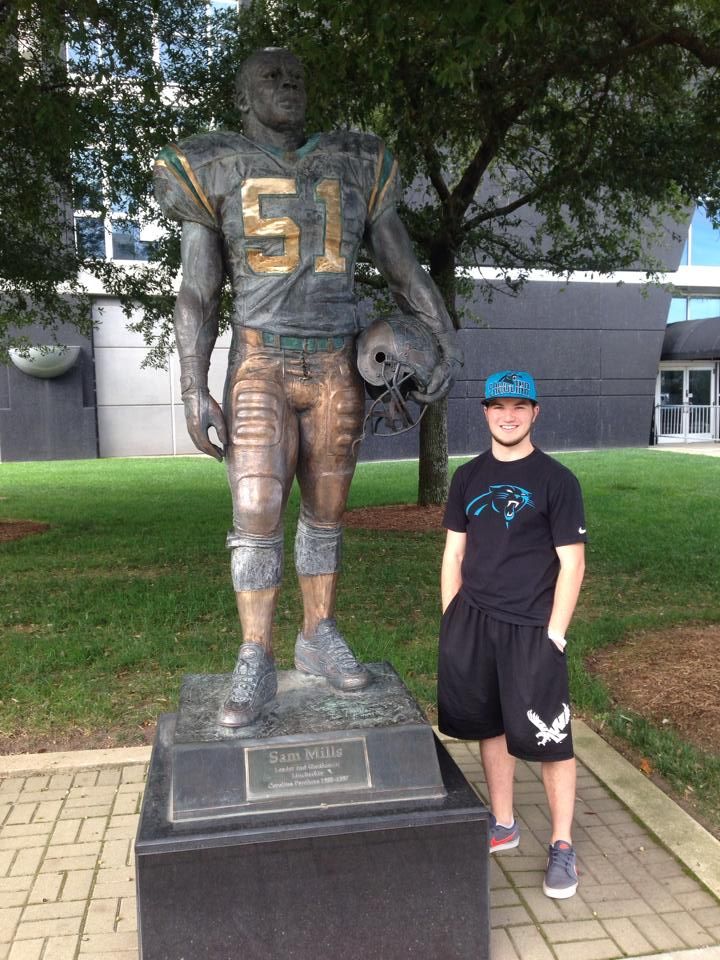 Shortly after, we took a tour of the stadium which for only 5 dollars, is well worth the price to hear great stories and see a beautiful thing..
After this, we went to the team store which was just like heaven...with a hefty price tag.
***NOW COMES THE BEST PART (OR ONE OF THEM) THROUGHOUT THIS ENTIRE TRIP***
While walking around stadium after tour, we found people lining up by the practice fields as if they were going to get autographs... I have never been to training camp or let a lone a practice, so I figured I should see what I can do, because just being near these guys is awesome to me...
The gates opened, and the first person I see is Mr. Kuechly...He came directly to me to not only sign an autograph, but also for a conversation as I told him I was from Washington state...This was a special moment being that never in my life had I been so close to a Panther, let alone talked to one...he was the nicest guy I've ever met, and is definitely easy to see why he is a fan favorite...
Shortly after that, I was able to get Frank Alexanders and Greg Olsen's and then I see Smitty walking out...Smitty has been my all time favorite panther, and will always be. He was my role model growing up and to at least see him up close would be all I wanted, well it looks like I got more than that...
Smitty also signed a guy by me who was holding up a wifebeater (yes a wifebeater) to get signed...Classic Smitty looked at it and said "Dear lord, you aint gonna wear that are you". Funniest thing I've seen all trip..
Then last but certainly least, I saw Cam coming out last after putting in some extra throws, and he had this mean but serious look on his face (this guy was begging him for his autograph so he could sell it smh), but sure enough Cam was nice enough to sign an autograph for me...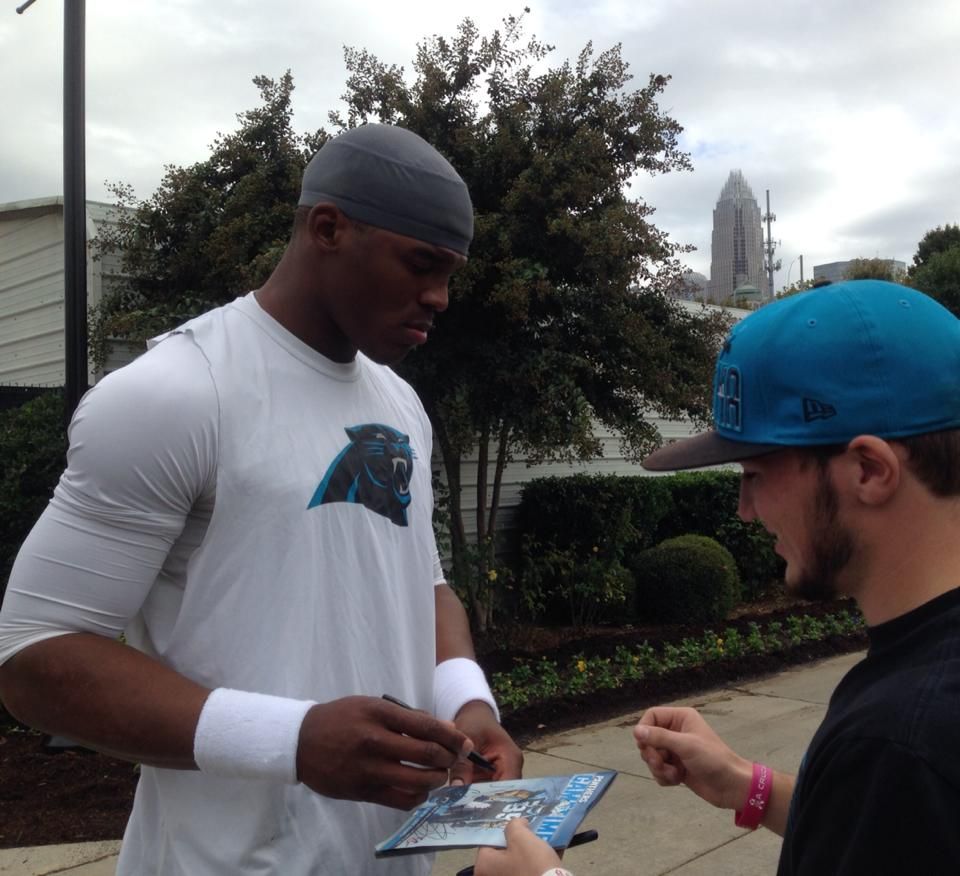 According to many, it's hard enough to get Cam and Smitty's autograph, however I was fortunate and lucky enough to on the first chance I got...I am super lucky and thankful!!!
I finished that night in the Epicenter...while seeing this (da fug?)
Spent the next day (Saturday) at the Uptown BBQ eating some damn good southern food...
(Had Mac's speed shop...yum!)
Now onto Sunday...Saw very little tailgating, although it's expected since BOA doesn't have a parking lot like many others do. However, the stadium and outside of it was awesome for me...never have seen so many Panther fans in one place at a time...unreal...had a nice view from my seats (sec. 101), not bad at all!
Before the game I also had to go meet one of the biggest fans I know, Catman!
One of the coolest things I have ever seen were the player intros...Hardy is a freak of nature, while Keek is so calm and cool...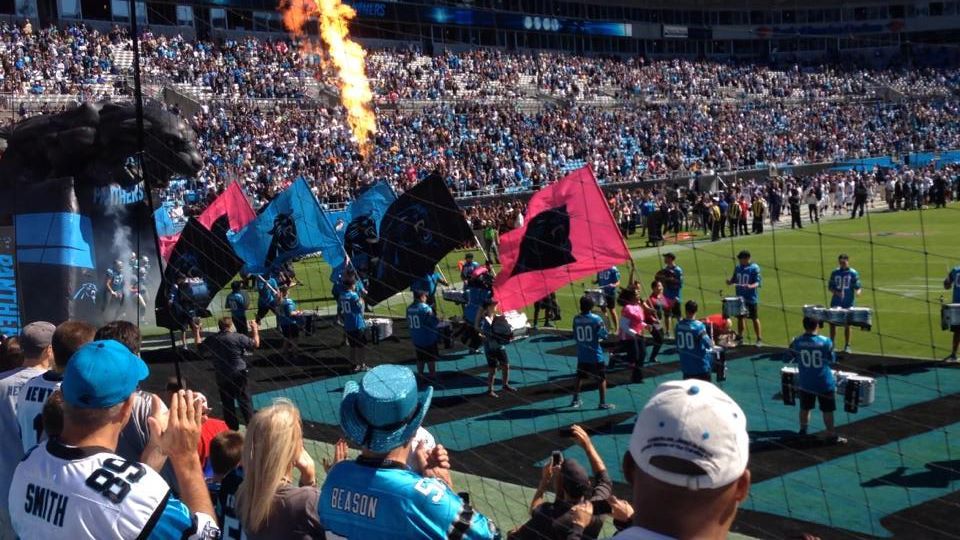 Kickoff started, and the very first play as well know...had not only me shaking in my seat from the adrenaline, but the ENTIRE STADIUM ROCKING....was the coolest thing I had ever seen...
However, I feel as if after that, the stadium wasn't very loud again..I found myself being the only one standing on 3rd downs for our D, even on the 4th and 1 for the rams on the goaline...a little disappointing, however this team hasn't earned much from the fans after the past few years...Here is a picture of me being the only one celebrating a sack on 3rd down (top left, blue jersey)...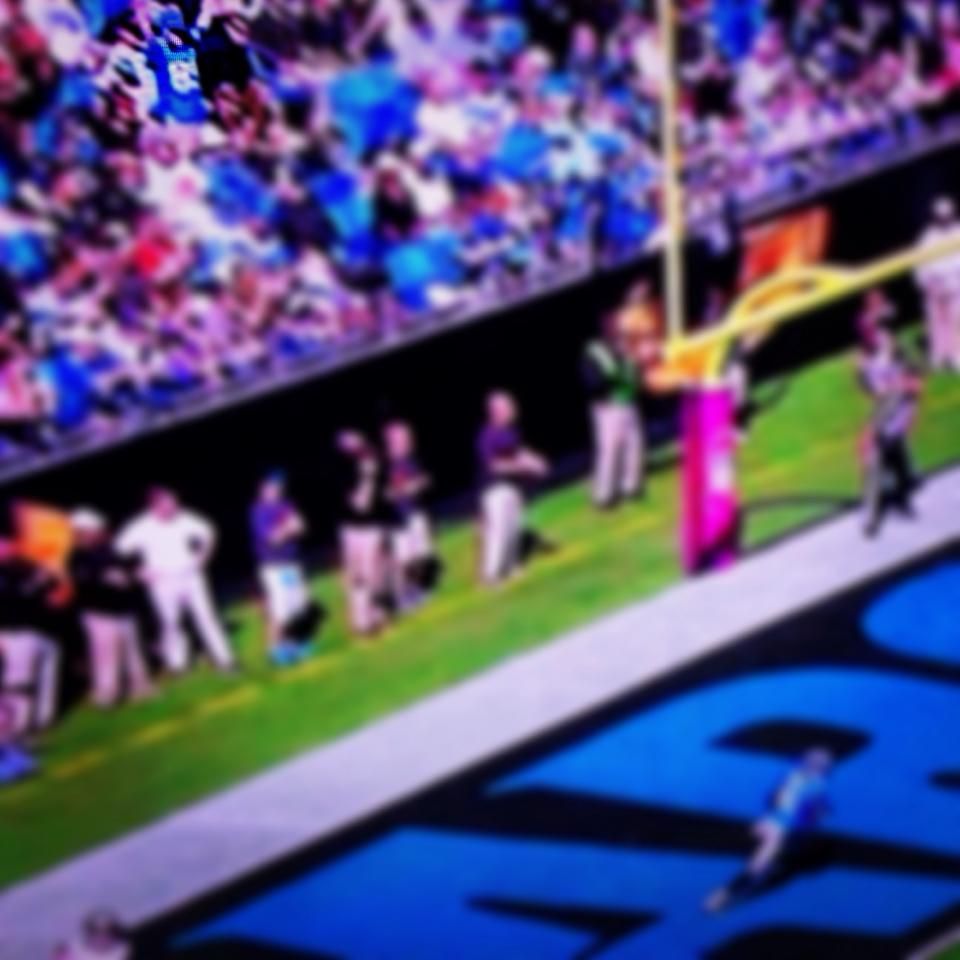 As you can see, many were sitting and hardly clapping while I'm going nucking futs...Maybe I just over react on a 3rd down sack, or maybe the fans in my section just don't care as much...who knows.
Regardless it was one of the most awesome experiences of my life..Got flipped off by Chris long and read his lips saying explicit language...all while laughing "straight to the bank".
I was one of the first ones in the stadium, and literally the last one out..Didn't wanna leave. But I learned a few things from this trip..
1 - Carolina is one of the most beautiful and classy places I have ever seen. People were great here! Coming back to Washington and only been home a week and it's like Hell compared to Heaven.
2 - The further East you go, the better the food is. I'm glad I don't live there ONLY because I would do nothing but eat and become obese. It is so good there!
3 - The weather is great...got sun burnt on my right side after the game (neck, arm and face was red because sun was on the right of me lol). Even when it rained on Thursday, it was a warm rain rather than the freezing one here in the north west.
4 - The Panthers have changed...not just cause I went to a game, no, you could feel something different. Rivera actually talks and shows emotion now, to begin with. It's a new year and I believe good things will come from it. Superbowl? Probably not...but Playoffs? I'm thinking so!
All in all it was an overall great trip. Thanks to those who read, and just know that I envy everyone of you who live here. It is truly beautiful! Now let's go get Atlanta!
On a side note...while I was away, I volunteer coaching a tackle team of 6th graders...they won their playoff game to move to 8-0 on the year and now we play in the championship this Tuesday night (tomorrow)...got us some panther colored jerseys and now my all time coaching record is an undefeated 13-0...in which I wear this Panthers polo to every game...maybe I should wear this on Sundays? Keep Pounding!