I love ESPN and while there are times when a certain story does get old, there are those reporters I still like listening to or reading their articles on the website. One such reporter is John Clayton the resident football analyst. As most of you know, Clayton has a column on ESPN.com that is called Clayton's Mailbag. Fans submit questions and he answers them in his column.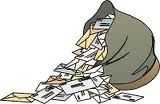 I am always curious to see how he answers questions about the Carolina Panthers and this week was no different. The motivation of this post comes from A) wanting to provide a Panther fan's opinion and B) pay homage to a feature in Maxim magazine when they took questions from other magazines and answered them...albeit in a non-serious manner. However, this answer will be serious but from a biased, yet fair and amateur writer (and of course, a Panthers fan!).
Chris in Florida writes:
Q: With Cam Newton at quarterback, and Brandon LaFell and the other young receivers evolving into great players alongside Steve Smith, and Jon Beason coming back strong to team with Luke Kuechly, could the Panthers reach the Super Bowl?
The Panthers are headed in the right direction. There are still some concerns heading into training camp but the team is focused and ready to get to work. The overall feeling amongst the fan base and the organization is a positive one and great things are expected in the near future. However, there are a few things to be considered before talking Super Bowl.
The team will be one of the best led by quarterback Cam Newton and a loaded backfield featuring DeAngelo Williams, Jonathan Stewart and Mike Tolbert. Steve Smith should have another breakout year but his success will depend on how well fellow receivers Brandon LaFell, David Gettis and rookie Joe Adams perform in their duties. Both LaFell and Gettis have shown flashes but Gettis is coming off an injury that kept him out all of 2011. Greg Olsen provides another target for Newton as well as another problem for opposing defenses. Gary Barnidge could be a wonderful #2 TE but he needs to stay healthy. The offensive line is another area of concern but drafting Amini Silatolu should secure Newton's blindside while learning from veterans Jordan Gross and Ryan Kalil. Jeff Otah needs to stay healthy in order to give the line depth and talent however, I am confident in Byron Bell's ability to progress at RT in his second season. The overall outlook for the offense is very good.
Defense
The Achilles' Heel of 2011 saw leader Jon Beason and Thomas Davis go down with injuries. The defensive front was mostly ineffective but showed improvement in the last few games. I expect Charles "Big Money" Johnson to have a big year and to be complemented by Greg Hardy. Chris Gamble has to be the most underrated corner in the game but he is going to need help from the other side. Brandon Hogan and rookie Josh Norman need to step up and provide additional insurance to help defend against the passing game. Free agents Haruki Nakamura and Reggie Smith were brought in to compete for the safety positions. That battle should be fun to watch during training camp. First round selection Luke Kuechly will be relied on to make the linebacking corps formidable once again and teaming up with Beason and James Anderson should return the unit to glory. If the Panthers can resolve their defensive woes and keep key players healthy, they will be vital to the team's success in 2012.
Special Teams
This is a team that needs a playmaker on the special teams unit. Kealoha Pilares looked good on the return team last year, even taking one back to the house. The biggest area of concern is the punt return team and hopefully the acquisition of Adams provides a spark that has been lacking the past couple of years. Kicker Olindo Mare needs to be a lot better this year in field goal attempts; especially those within the 30 yard line. Coach Rivera has shown he is not afraid to bring in competition to motivate his players. Mare is no exception.
Division/Schedule
Carolina has the misfortune of playing in the same division as the Falcons and Saints; two teams who have been highly competitive in recent years. The Buccaneers always present a good fight, though last year would suggest differently. The key to the Panthers success is dominating their division but a fairly tough schedule awaits them outside the NFC South. Matchups against the Broncos, Chargers, Giants and Cowboys will be tough. A split against non-division foes will only be acceptable if the Panthers are able to dominate their division.
Final Analysis
The pieces are there for the team to go far. Whether or not they are able to reach the playoffs let alone the Super Bowl depends on how well those pieces come together. Coach Rivera should be successful in his second season but a lot depends on the health of his players and if the crucial mistakes of last year are corrected. The Panthers may not be Super Bowl bound this year, but they look to be competitive over the next few years. This team has the potential to be another great dynasty. They have the youth, the coaches and the motivation to succeed. Only time will tell.