I was doing a little bit of reading and little bit of researching over the last few days. Some of which was purely accidental but it got me thinking. Carolina heads into 2012 with a variety of expectations. Unlike last year when everyone predicted a slight improvement but no playoff appearance, this year has a mixed bag of how our beloved Panthers will fare in the upcoming season. I believe it safe to assume the general consensus in Panthers Nation is a wild card berth at the minimum. However, there are those who believe another 6-10 performance is in the cards. Personally, I don't get too caught up in preseason predictions because I feel it takes away from the season and if your team is predicted to do well and they fail, you are left in a momentous state of disappointment. I am not saying that we shouldn't have our predictions but I do believe we should never take them to heart. We should let the performances on the field and the statistics tell the story. Now on to my thoughts and musings....
How Potent is the Offense?
Carolina just dominated on offense last year under a first year head coach, a first year offensive coordinator and a rookie quarterback in Cam Newton. Ok, maybe dominate is not the right adjective I should use here but they turned a complete 180 from the season before that saw a revolving door of signal callers come and go. The only real question mark is the line and if the extent of that is the health of Jeff Otah, then I'm a happy fan. Personally, I have full confidence in Byron Bell and it seems Ron Rivera does too.
Wide receiver is going to be interesting to watch. Everyone knows that outside of Steve Smith, there really hasn't been a solid number two receiver. I think that changes this year. Brandon LaFell looks to have the makings and the ceiling to be the number two guy and I expect him to line up on the outside many times this season. Another player I am high on and will be watching closely is David Gettis. The young man had a very good rookie year and showed flashes. I hope he can come back and make a solid contribution. If rookie Joe Adams is anything I think he will be, then we are in really good shape. In fact, I think he will be a steal. There are still many WRs on the team and the front office signed a bunch of UDFA but I think that Kealoha Pilares will make a good fifth option but I expect him to be more of a return man on kickoffs.
Running back is looking very interesting. We have the return of DeAngelo Williams and Jonathan Stewart who make up the tandem of Double Trouble. In addition to them, there was the signing of Mike Tolbert who is dangerous out of the backfield, at the TE position and in the slot. This guy is versatile and I expect to see Chud use that to his advantage. We should not forget the threat Newton presents as a runner either. Last year, it was a three headed monster and in 2012 it became a four headed monster. Its hard to say whether or not Williams or Stewart will rush for a thousand yards or more, but the way I see it they are in a great position to be surrounded by talented players and reduce the amount of wear and tear on their bodies.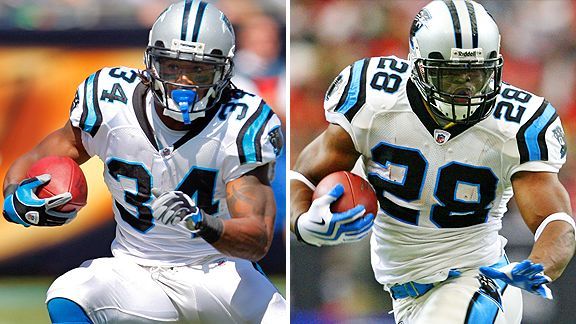 Another position of interest and will be just as effective, is tight end. I will say this and say it once: WE DON'T NEED JEREMY SHOCKEY! Greg Olsen and Gary Barnidge will provide enough talent and depth to keep the chains moving and open up holes in the running game. Now that Newton has a year in the league, he should be more comfortable than before and have no problem with checking down if he is under pressure. I do not know why, but this TE tandem has the ability to be as good as the Patriots Gronkowski and Hernandez. Yes, I am being very generous in that regard but with the talent on the offense it is hard to say it can't happen. After all, who would have thought a rookie could throw for over 4000 yards?
Cam Newton. He is what makes the offense click. If he has been studying and reviewing game film (and I'm sure he has been) then we are in very good shape heading into training camp. Even after an impressive rookie year, he still has things he needs to improve upon. Reducing his interceptions is a good start. However, he should be able to read defenses better in year two and I expect more from him as a field general. It is not a wild notion that he could be wearing a Captain's patch on his jersey this year. I think I speak for everyone when I say that the one thing I would like him to keep to a minimum are the hits he takes when he runs the ball. His health is paramount in making Chud's style of offensive play calling work.
Consider the following: How effective was the red zone offense in 2011? The Panthers scored 19 TDs on the ground with Newton accounting for 13 of them himself. He also tossed 9 TDs. Needless to say, this unit can get the job done inside the 20.
Quick hits
- I like how the field has looked since its inception but with change to the logo should come change to the field. How about the logo at mid field instead of the NFL shield? The Panthers had the logo closer towards the end zones but maybe switching them wouldn't be such a bad thing.
- What a difference a year makes. This time last year, there seemed to be a lot of speculation as to Smith's future in a Panthers' uniform. Given what we have seen and read over the past few months and most recently, I think its safe to say his legacy is secure in Carolina forever.
- I don't think it matters where Jon Beason plays or where Luke Kuechly plays either. If Beast stays healthy and James Anderson has another solid year, those three will be a force. Also, there is this guy named Thomas Davis who may return healthy and could prove to be one helluva a rotational player.
- Olindo Mare cannot be any worse in 2012 than he was in 2011 can? I really think he bounces back. I am being very optimistic on this post tonight.
- I don't know which is more annoying? Constant bounty hunting news or in-denial Saints fans. Hey trolls, they got caught, that's life, get over it. Stop tainting our blog with your mindless comments and baseless arguments.
- Trick play of 2012? I think this year Rivera and Chud take a page from the movie Remember the Titans and pull of the play at the end of the movie in the championship game. So, if Newton is lining up behind Derek Anderson....
- I really don't understand the fascination with an all black uniform. Granted, it looks cool but its unoriginal. I thought maybe an all Carolina/electric blue scheme would look nice but I don't see the helmet going that color. Oh well, maybe black pants with the blue jerseys is a fair compromise.
- Preliminary fantasy football rankings has Newton as the fifth best QB and Smith as the third best WR.
Closing Thought of the Night
Thank God for baseball. If it wasn't for the national pastime, I might be going stir crazy waiting for the football season to start. Its hard to believe that the Hall of Fame game is just around the corner. I feel good knowing we have a team that has no major off field issues and we are not being scrutinized like some other teams. That being said, we shouldn't worry about what is going on with everyone else and instead be more mindful of what is happening at home.