This past Saturday I posted an article about how well Carolina has done in the first round of the draft since Marty Hurney has been the general manager. Well, now I am going to switch gears and discuss the second round picks of Hurney's career while in Carolina. As we all know, the second round has not been too kind to the Panthers during the past decade. What puzzles me (and I would imagine most of you) is why his first round picks are so good, yet his second rounders are so bad or just underachieve. Before I get to players taken by the Panthers in the second round from 2002-2011, let me point out that three players drafted in the second round are still on the team. Two of which are from obtaining an additional pick in the round. Let that sink in for a moment.
You could say that the second round is a complete reversal of the first during Hurney's time as GM. Since 2002, for every solid first rounder taken, the next pick was a total bust or did not live up to expectations. Here we go...
2002
34th overall: DeShaun Foster/RB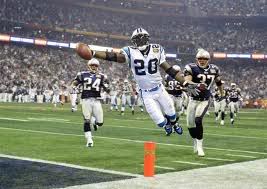 Foster is probably the second best player you will find on this list. He was part of Carolina's NFC Championship team in 2003, highlighted by his epic leap into the end zone against the Patriots. His best statistical season was 2006 when he appeared in 14 games and rushed for 897 yards and 3 TDs. Accolades: 1x FedEx Ground Player of the Week (2004)
2003
50th overall: Bruce Nelson/C
If there was ever an adjective to describe this pick, it is epic fail. Nelson's career lasted all of 15 games with one start. He was bothered by hip injuries and did not last beyond his rookie season. Accolades: None
2004
62nd overall: Keary Colbert/WR
This was a pick that looked promising and then just fizzled. Colbert looked like the answer to complement Steve Smith as a #2 WR and even picked up the slack for him when he was injured later in 2004 tallying 47 receptions for 754 yards and 5 TDs. However, he never showed that same kind of promise the following season and was mediocre at best during his last years in Charlotte. Accolades: None
2005
54th overall: Eric Shelton/RB
Eric Shelton was taken in the second round from a pick acquired from the Seahawks and rushed his way straight to the injured reserve. Shelton broke his foot during his rookie year and only appeared in eight games in 2006; totaling a meager 23 yards on eight carries. Accolades: None
2006
58th overall: Richard Marshall/CB
Marshall looked like a solid player when he was selected by Carolina appearing in 16 games as a rookie in the nickleback position. In 2008, he took over the starting job from Ken Lucas who was released. Marshall showed promise at times but was shown up too many others. He left in 2010. Accolades: Earned NFL Network's "#1 Play of the 2008 Pre-season (seriously)
2007
45th and 59th overall: Dwayne Jarrett/WR & Ryan Kalil/C (respectively)
You would think that the Panthers would have gotten it right with one pick in the second round, right? Not with this guy. Jarrett ran a slow 40 yard dash at the combine and eventually dropped to the second round and was picked up by the Panthers. I remember this pick because former WR Keyshawn Johnson talked about how we going to look forward to mentoring Jarrett. This did not happen as Johnson was cut a few days later. Jarrett would put up less than impressive numbers and caught his first TD pass in 2010. Really? Accolades: Charged with DUI in 2008
Thank the football gods for a player and a steal like Ryan Kalil (hey, I made a rhyme). If the Panthers had to get one right, they could not have asked for a better player as Kalil has been solid since day one. He is now one of the leaders of the offensive line as well as in the locker room. Kinda makes you wonder how he was taken in the second but little brother is rated a top five talent.... Accolades: 3x Pro Bowler, All-Pro (2011)
2008 No pick
2009
43rd and 59th overall: Everette Brown/DE & Sherrod Martin/CB (respectively)

This pick is quite possibly the definition of "when trading up goes wrong". Carolina gave up their 2010 first rounder (a move I was very unhappy with) to grab Brown out of Florida St. His play practically screamed the reason his stock fell in the draft and after two seasons recorded only two sacks. In 2011, he was released. Accolades: None
Martin is still young and has time to improve. He has played brilliantly at times and shown his inexperience at others. In his first career start, he had two interceptions against the Arizona Cardinals. Martin does not seem to be the answer at CB for the long term future, but until that position is filled by a quality corner to complement Chris Gamble, he will need to find ways to take his game up a notch. Accolades: None
2010
48th overall: Jimmy Clausen/QB
As some of you know, I liked this pick in 2010 thinking the Panthers had a steal and picked up their quarterback of the future. Wow, I think I need to have my head examined for saying that. Clausen was unspectacular as a rookie as he and a revolving door of quarterbacks led the Panthers to a 2-14 record. What is even more surprising is that he is still on the roster. Accolades: Instrumental in helping the Panthers draft Cam Newton
2011 No pick
Its amazing how bad the second round has been to Carolina the last ten years. It seems like its been more or less a round of doom for the Panthers as they have seemingly struck out on many of their second round selections. What is even more amazing is that Hurney has hit some home runs with later draft picks. The players listed below were taken after the second round and may or may not be with the team:
James Anderson/OLB
Dan Connor/MLB
David Gettis/WR
Greg Hardy/DE
While some of these guys haven't played to Pro Bowl standards, all of them have had better success than those taken in the second round by the Panthers. Despite Hurney drafting a lot of duds in round two, it is comforting that he is capable of finding that late round gem that can become a playmaker. Going into this year's draft, we need to be mindful of the past and hope that we strike gold in both the first and second rounds. Hurney is a capable general manager and Ron Rivera is an outstanding coach. I have no doubt that these two working together will find the missing links to building a quality, championship football team. Go Panthers!!