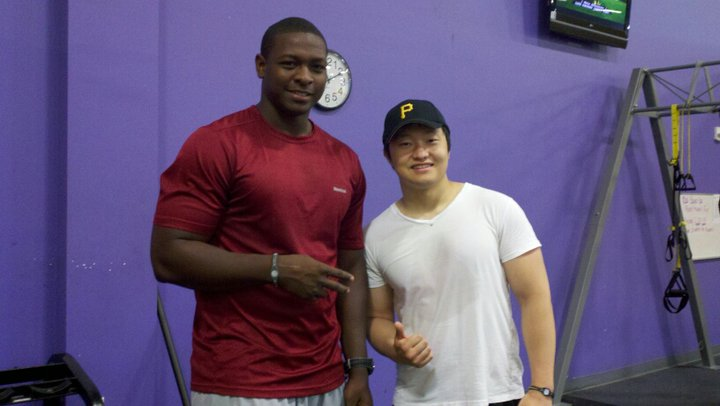 That's right guys. There are players who have been using this time of uncertainty to take a vacation, but not this guy. I met up with Everette Brown for a few tips on training in the off-season and also to catch up with what he's been up to.
Everette's been preparing (working out) for the possible upcoming season ever since February. What's amazing about it though, is that he'd been recovering from a wrist injury he received from the Falcons game for some time. The scar on his wrist looked painful just looking at it!  He'd just finished working out with the team for the last 2 weeks or so, so today was more of a "lighter" day for him. He was gracious enough to take some time to workout with me.
I noticed that Everette does about 10 mins or so of just warming up, stretching out his shoulders and legs. He's working out smart, that's how you prevent injuries during working out or even during games. Me? I spent those 10 mins just pumping up my arms and shoulders, just so I wouldn't look too tiny in front of him.. but it didn't matter... see the picture above, but do not judge.
We started with a couple sets of deadlifts. Everette likes to keep the sets short, but explosive. We did about 4 sets of 3-4 reps, going heavier on each set. Today was his "lighter" day to focus more on the smaller bodyparts, but I was having trouble just catching up!! then we moved onto good-mornings, focusing more on the lower back. We finished the workout with some hamstring exercises.
If I could, I would have taken pictures of the workout as well, but then I'd have to photoshop the weights I used for the workout, and that would've been way too much work.
With a defensive minded coach like Rivera, starting job is still up in the air. Everette has the strength and the speed to be a great pass rusher, and I was a witness to his work ethic and humility today. Thanks Everette for a great workout, and I wish you the best!