Hey Fans, I was just looking over some stats at NFL.com and I just happened to come across some very interesting information regarding Clausen compared to the other QB's in last years draft. Now we all know that Clausen has not had a very good season so far but is he really THE worst QB in this draft class? Well, according to the stats he may be! (Remember everything said in this article is up to this date! My opinions and thoughts could change on the subject has time goes on.) Here is the list of the best rookie QB's this season so far by QB rating:(minimum of 40 attempts)
1.Tim Tebow 25/46 53% pct. 449 Yds 3 TD 1 INT Rating: 100.7
2.Colt McCoy 115/181 63.5 % pct.1367 yds 5TD 6INT Rating: 81.9
3.Sam Bradford 335/554 60.5% pct. 3,357 yds 18TD 14INT Rating: 78
4.John Skelton 46/101 45.5%pct. 570 yds 1TD 1INT Rating:62.7
5.Joe Webb 34/57 59.6% pct. 332 yds 0 tds 2 INT Rating: 61.4
6.Jimmy Clausen 138/266 51.9% pct 1376 Yds 2TD 8INT Rating:56.8
It is ridiculously obvious that Jimmy Clausen has had the worst season so far out of these rookie QB's. But are these simple statistics misleading? Maybe? Maybe Not? Well we about to find out as I take a deeper look at these rookie QB's one by one as I look over there season and also predict how good they will be in the future.
Tim Tebow: First off I just want to say I am extremely impressed with Tebow so far this season and what he has done. Tebow was thought to be a "project" type QB coming out of the spread offense at Florida has proven he has what it takes to succeed in this league despite his awkward throwing motion. In his two starts Tebow has put up some good numbers including a go ahead rushing TD in the 4th quarter for the win versus Houston last week. He also did a good job through the air as he threw for over 300 yds. OK, we all know that Houston has a bad pass defense but they're still a professional football team so we will give him credit. Overall I believe it may be a little to early to tell whether or not Tebow will be a star but we know he has the potential to be very good. As of today I'll rank him third in the top 2010 draft class QB's.
Future Prediction for NFL success: Good NFL QB
Ranking in 2010 NFL QB Draft Class: 3rd
Colt McCoy: Colt McCoy to me has had the best season of all the rookie QB'sin my opinion. Currently the starting QB for the Cleveland Browns, McCoy has put up some good numbers so far this year. He currently has a decent QB rating of 81.9 1367 yrds and5 TD passes this year. Those are very solid numbers for a rookie QB considering the fact he also came out of a spread system at Texas. Before the draft many scouts questioned McCoy's arm strength andability to take hits in the NFL which led to him being drafted in the 3rd Round by Cleveland. Despite all this, what really impresses me and others about Colt McCoy is accuracy and ability to be a mobile QB. McCoy is by far has the best accuracy as a QB in this years draft. This can be shown by his 63.5% completion percentage which is 3% higher than 1st overall pick Sam Bradford. Although he has been injured this year, his overall production has lead me to give him the number spot in the 2010 NFL Draft QB Class for right now. If the Browns can get a #1 receiver such as AJ Green then McCoy's numbers should sky rocket even more. But I don't believe he will be better than Bradford in the long run.
Future Prediction for NFL success: Average/Good NFL QB
Ranking in 2010 NFL QB Draft Class: 1st
Sam Bradford: Bradford the number 1 overall pick in this last years draft has impressed many people around the league. He has revived the lonely St. Louis Rams franchise and now has them in the playoff hunt. Bradford his also the consensus pick for NFL rookie of the year with a 60.5% completion percentage, 3357 yds passing and 18 passing TD's. Lets not forget the fact that he is out there tossing the ball around to receiver like Danny Amendola and Brandon Gibson. I do like how the Rams have designed the offense around Bradford to limit his mistakes with short/intermediate passes. But this also the reason why I put Colt McCoy ahead of him on my rankings. Bradford has a lower completion percent(60.5) than McCoy's does and he has a lower YPC(6.1) than McCoy(7.6). With the  system that the Rams are running for Bradford I would like to see his averages/completion percentage be more on par withMcCoy even though McCoy hasn't started every game of the season like Bradford has. I'll give Bradford the 2nd spot on in the rankings and if the Rams open up the playbook and get some good weapons around Bradford he will quickly surpass McCoy on the Rankings.
Future Prediction for NFL success: Great NFL QB
Ranking in 2010 NFL QB Draft Class: 2nd
John Skelton: Skelton a 5th round pick by the Cardinals was not expect to see any action this year but do to injures and poor performances from the other QB's on the roster, he was forced into the starting lineup. John Skelton in my opinion has done an average job so far. He has done what is asked of him and has made the best of his opportunity. He has put up a very mediocre 45.5% percent completion percentage, 570 yards and 1 TD in his first 4 games. The thing that a like about Skelton is his size (6'5 243) and his ability to avoid sacks. He reminds alot a people of Ben Roethlisberger with his size and arm strength. With the receiver in Arizona I would have liked to seen his put up better stats which leads me to give him the number 5 spot on the rankings.
Future Prediction for NFL success: Average to Good NFL QB
Ranking in 2010 NFL QB Draft Class: 5th
Joe Webb: Webb has made a enough noise in Minnesota to be put in the consideration for who is going to the Vikings QB of the future. He hasn't really did enough for me to pass judgement on him yet so I'll wait till more information is available.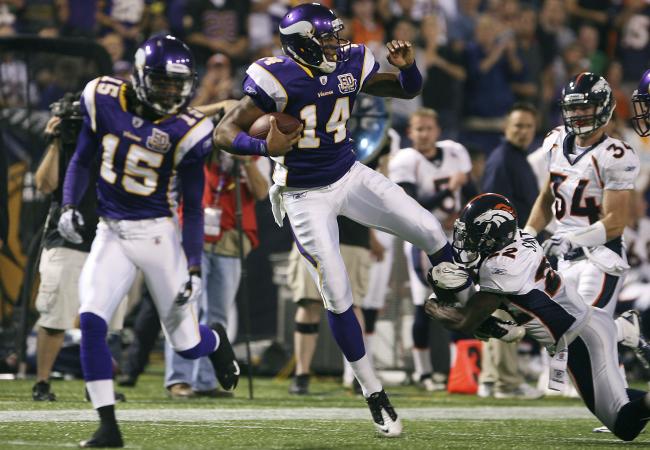 Future Prediction for NFL success: N/A
Ranking in 2010 NFL QB Draft Class: 6th*
Jimmy Clausen: Here is what he all been waiting for fans, Jimmy Clausen the starting QB for the Carolina Panthers. Clausen was appointed the most "pro" ready prospect in the NFL Draft last year and was expected to come in and compete with Matt Moore for the starting spot. Sadly, things didn't turn out so well for the stud Notre Dame QB has he has put up below average numbers this year with a 51.9 pct completion percentage 1376 Yds 2TD's and 8 INT's. The numbers here speak for there selves but I will say that Clausen has done a nice job this year with the deep ball. He hasn't took many shots down the field this year but when he has his balls have been very good. Jimmy also does a good job of throwing the ball away despite his 8 INT's. The not so good things about Clausen is his tendency to hold on to the ball to long, not step up in the pocket, and his decision making when throwing down the field. This has lead to 90% of the fanbase and others around the league to believe that the Panthers will take Standford stud QB Andrew Luck with the first pick next year. Personally I want to take Andrew Luck but I have a gut feeling he will stay in college for one more year(dumb decision). So if this seneriohappens then that leaves us stuck with Jimmy "the golden boy" Clausen, which is not as bad as some of you may think. I tend to look at things with a diffrent view than "The Panthers are missing out on the next Manning". I believe if Luck doesn't come out this year then that will give us another whole year to evaluate Clausen. I generally believe one of three things will happen if luck doesn't come out:
A. Clausen is good next year and we didn't need Luck.
B. Clausen is average but he improved significantly from his rookie season.
C. Clausen sucks and we are in position to take Luck in the 2012 draft.(Assuming there is a season next year)
If you look at it from these 3 perspectives then its not so bad if Luck doesn't come out because the Panthers(believe it or not) are currently in a win/win situation. At this point the worst thing that can happen to us is for Luck to not come out and there be no season next year, then there is a strong possibilty that we don't get Luck at all. Well thats enough about Luck, I just wanted to put in my 2 cents about the Luck topic but anyways lets get back to the ain topic. Is it to early to start calling Jimmy Clausen a bust? I believe, Yes is the answer to this question and we will need another whole year to evalutate Clausen before we can "burn him at the stake". Overall I believe Clausen has had a below average season but it was ok for a rookie so I'll give him the number 4 spot on my rankings.
Future Prediction for NFL success: Average to Very Good
Ranking in 2010 NFL QB Draft Class: 4th
Here are my rankings for the top 2010 NFL Draft QB's for this season:
1. Colt McCoy
2. Sam Bradford
3. Tim Tebow
4. Jimmy Clausen
5. John Skelton
6. Joe Webb*
Well fans, what do you think? Do you think I rated someone to high? to low? Be sure to leave me your comments with your opinions on anything regarding last years draft or even next years!! Happy New Years Fan!!!  Go Panthers!!(Remember everything said in this article is up to this date! My opinions and thoughts could change on the subject has time goes on.)